Driving in Toronto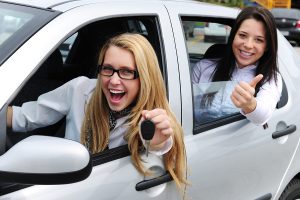 It's no secret that Toronto residents love their vehicles as much as they love driving. In fact the city has hosted Canada's largest auto show at the Metro Toronto Convention Centre since 1974.
As a busy metropolis that's sure to entail a lot of driving around, it's probably practical to choose a city car when in Toronto. Here's a list of some of the most popular sedans driven in and around the city:
Honda Civic
Hyundai Elantra
Toyota Corolla
Chevrolet Cruze
Mazda 3
Volkswagen Jetta
Volkswagen Golf
Toyota Camry
Nissan Sentra
Ford Focus
Toronto is known for its warm and humid summers with plenty of rainfall. Wintertime, on the other hand, is considered as particularly harsh; with sub-zero temperatures and snowstorms abounding in the winter months.  For these reasons, these rough and rugged vehicles have gained popularity:
Ford F-Series
Ram Pickups
GMC Sierra
Chevrolet Silverado
Dodge Grand Caravan
Toyota Rav-4
Honda CRV
Nissan Rogue
Chevrolet Equinox
Mazda CX-5
Additional expenses from car ownership
Along with paying off your loan, you should also be ready to take on additional expenses associated with owning a car. These extra costs are inevitable, and is oftentimes just as important as setting aside a budget for vehicle purchase.
Fuel Consumption

- is the amount of fuel used by a vehicle to travel a certain distance

Maintenance

- over time your vehicle will need maintenance to keep it in good running condition. Be prepared for essentials both under the hood and outside of it.

Repairs - as a whole motor vehicles are very resilient, yet it is inevitable if one or more parts wear out over time. Repair jobs range from relatively simple tasks to full-blown rebuilds depending on the situation.
Vehicle Insurance -

in Ontario it is mandatory for every car owner to have coverage on the following:

Third-party liability, Direct Compensation - Property Damage, Uninsured Automobile Coverage, Accident Benefits
Taxes
In addition to all these, all vehicles are subject to depreciation. As a rule of thumb, the value of a vehicle is reduced by 20% per year. Car owners should be particularly mindful of depreciation if they're planning to sell their car after a certain number of years.
Apply Now - 100% FREE with No Obligation to Buy
Credit Rating
Now that we've covered the foundations of a car loan and the costs associated with owning a vehicle, we can proceed to the biggest factor in securing auto financing: credit rating.
There are many considerations when it comes getting a high or low credit rating. This includes:
How long an individual has been in debt
Total outstanding debts
Missed payments
Number of previous loans
Number of times the person has tried to apply for a loan, etc.
A low credit rating not only determines eligibility for a car loan, it also determines interest rates. The better your credit rating the more you can negotiate lower interest rates for your car loan.
On the flip side, people with low credit score must make do with higher interest rates.
An individual's credit score ranges from 300 to 900 and is the primary basis for creditors when it comes to evaluating a loan application. In a nutshell, this is what you can expect if you fall under a certain range:
620 and above

- rated as

good credit
300

- the baseline score given to those who have no prior loan applications. Also known as having

no credit
620 and below -

is considered as

bad credit

. Depending on the loan or credit history, certain lenders set this baseline at

650.
Other factors that can get you rejected for auto financing
Along with having a poor credit score, there are other factors that creditors will look at when considering your loan application:
Bankruptcy
Repossessions
Divorce
Credit Account Referred to a Collection Agency
Recently Migrated or Granted CItizenship
Where to obtain auto financing regardless of credit rating
If you've been rejected for a car loan because of bad credit, no credit, or any of the reasons listed above, there's no need to fret. Residents of Toronto can still get auto financing as long as they have these three requirements:
Own a

valid driver's licence

(learner's permit not accepted)

Employed for the past

3 months

in a single company with a minimum monthly salary of

$1,800

(after taxes)

Eligible for

vehicle insurance
Apply for a Car Loan Online
Fortunately for Toronto residents, you can easily access our online application with your computer or smartphone. The process takes 30 seconds or less to accomplish!
Filling out the online application is divided into three simple steps:
Step 1 -

choose your vehicle type: we provide options that range from

cars, SUV's, trucks, and minivans
Step 2 -

we will ask you to provide your contact information to complete the process, we need to make sure that you are able to comply with our

employment

and

insurance

requirements

Step 3

- wait for approval!